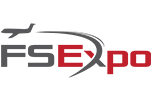 FlightSimExpo 2023
Captain Tango will be attending FlightSimExpo 2023 in Houston, TX. After joining previous editions in Orlando and Las Vegas, I am sure this will be another wonderful opportunity to connect with the flight sim community and I can't wait to get there. In addition to meeting other flight sim enthusiasts, I really appreciate interacting with all the vendors and the innovative products they keep bringing to our hobby.
See you at the expo in late June…
In the meantime, here are a few pictures from previous events.